REACHing Out and REACHing In
Whoever you are, wherever you're from, you are welcome here.
The purpose of FBC Franklinton's student ministry is
REACH
.
Our desire is to
REACH
up to God and experience Him while Reaching out to the world.
REACH
is an acronym that stands for:
R
React to God's Word –
James 1:22-25
E
Evangelism –
Acts 4:33
A
Adore God –
Romans 12:1-2
C
Connect with Each Other –
Acts 2:42-47
H
Help the World –
Acts 1:8
The purpose of
REACH
student ministry is centered around
LOVE
.
Our LOVE for God is why we REACH up to Him through His Word and through worship.
Our LOVE for people is why we do evangelism, connect with each other and seek to help the world.
Our LOVE for people flows from our love for God.
REACH
Student Ministry meets weekly for Bible study and prayer.
Our Sunday morning Bible studies are divided into gender and age-specific classes so that discussion can flow naturally without distractions.
These Bible studies are centered around two aspects
Discussion of God's Word
Application of God's Word.
Our Wednesday Night Worship Service is upstairs in the Youth Room at 6:00 p.m. and is centered around
a time of worship and large group Bible study.
Typically on Wednesday nights the Bible studies are book driven, for example - a Bible study series entitled "Soak Up the Son" which goes through the Gospel of John.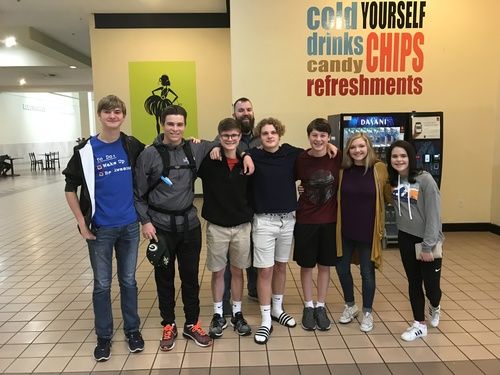 Follow us on social media.
Bible Study
7th - 9th Grade Boys Room 401
7th -9th Grade Girls Room 402
10th - 12th Grade Boys Room 403
10th - 12th Grade Girls Room 308

- Sundays we have been going through the book of Ephesians.
Wednesday Night Worship Service & Bible study
Join us for a time of worship and large group Bible study.

On Wednesday nights we have been doing a series entitled "Who?" which centers around four questions: Who is God? Who is Man? Who is Jesus? Who are we in Christ? This series will conclude on
Wednesday, November 13th

- On Wednesday, November 20th we are having a question night. Students can ask me ANY question and we will talk about it.
Get Connected. Go Deeper.
-
Sunday, November 10th
our PM services will be moved to Hillcrest Baptist Church at 5:00 p.m.
for Mack McElveen's ordination service.
-
YEC
is November 24th-26th.
As of this morning I have ONE spot open for a student and ONE spot open for a chaperon.
Click HERE for more YEC information.
- No
Wednesday Night Bible Study
on
November 27th!
Rev. Cody Thomas
Student Pastor
Bro. Cody Thomas joined our family in January of 2011.
He and his wife Mallory have two children, Anna Claire and Macie.
We'd love to hear from you!
Fill out the form below to let us know how we can minister to you and your family.